Top 5 Tips for Choosing a Collision Center in Salt Lake City
When it comes to choosing a collision center in Salt Lake City, it's essential to find a trusted and reliable establishment that can restore your vehicle to its pre-accident condition. With numerous options available, it can be challenging to make the right decision. To help you navigate through the selection process, we have compiled the top five tips for choosing a collision center in Salt Lake City. By following these guidelines, you can ensure that your vehicle receives the best possible care and restoration.
Look for Certifications and Expertise:
When selecting a collision center, certifications and expertise play a crucial role. Look for establishments that are certified by recognized industry organizations, such as the Inter-Industry Conference on Auto Collision Repair (I-CAR). These certifications demonstrate that the technicians are trained and up-to-date with the latest repair techniques. Additionally, consider collision centers with specific expertise in your vehicle's make and model, as this can further enhance the quality of repairs.
Consider Experience and Track Record:
Experience speaks volumes when it comes to collision repairs. Research the collision center's years of operation and inquire about their track record. A long-standing establishment with a proven history of customer satisfaction is more likely to provide reliable services. Check for online reviews and testimonials from previous customers to gain insights into their experiences. A collision center with a strong reputation is more likely to deliver exceptional results.
Evaluate Facilities and Equipment:
The quality of facilities and equipment can significantly impact the repair process. Visit the collision center in person or explore their website to assess their facilities. Look for a clean and well-organized workshop equipped with state-of-the-art tools and technology. A collision center that invests in modern equipment demonstrates a commitment to providing high-quality repairs.
Insurance Provider Relationships:
Dealing with insurance claims can be complex and time-consuming. To simplify the process, consider a collision center that has established relationships with major insurance providers. Working with an approved collision center streamlines the claims process, ensuring a smoother experience for you. It is important to verify which insurance providers they work with and whether they can assist in coordinating the necessary paperwork.
Get Multiple Estimates:
Before making a final decision, obtain multiple estimates from different collision centers in Salt Lake City. This allows you to compare pricing, services offered, and overall value. Be cautious of extremely low estimates, as they might indicate subpar workmanship or the use of inferior parts. Strike a balance between affordability and quality by choosing a collision center that offers competitive pricing without compromising on the repair standards.
Choosing the Best Collision Center in Salt Lake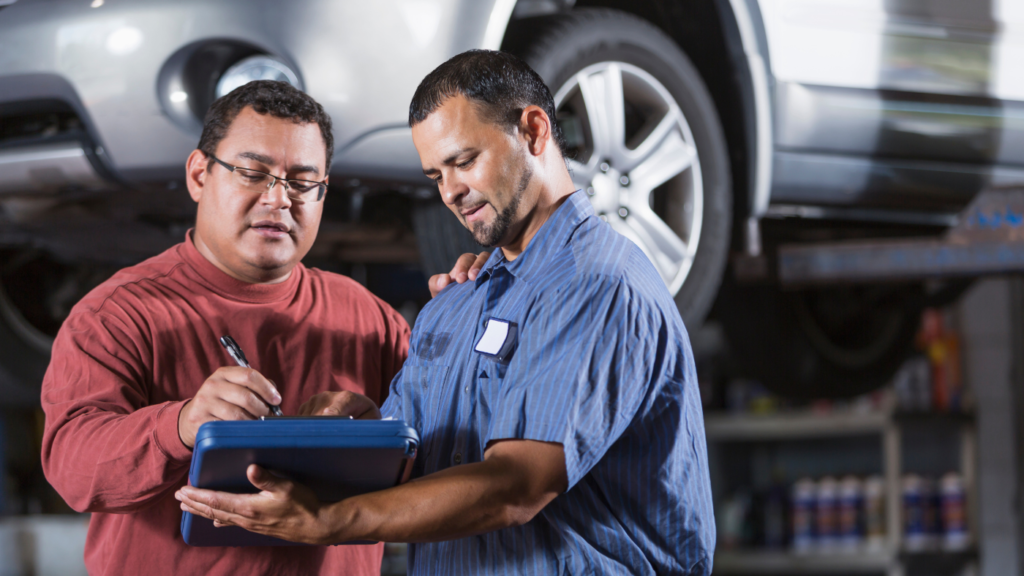 Choosing a collision center in Salt Lake City requires careful consideration to ensure your vehicle receives the best possible care. By following these top five tips, you can make an informed decision and select a collision center that meets your needs. Remember to prioritize certifications, experience, facilities, insurance provider relationships, and obtaining multiple estimates. Here are some example questions to ask your mechanic:
What type of parts will be used?

It's essential to know whether the collision center uses original equipment manufacturer (OEM) parts or aftermarket parts. OEM parts are made by the vehicle manufacturer and are usually preferred for their quality and compatibility. However, aftermarket parts can be a more affordable option. Discuss the pros and cons of each option with your mechanic to make an informed decision.

How do you handle insurance claims?

If you are filing an insurance claim, ask the collision center about their process for working with insurance companies. A reputable collision center will have experience in handling insurance claims and can assist you with the necessary paperwork, communication, and coordination to streamline the process.

Are your technicians certified?

Inquire about the certification and training of the collision center's technicians. Certifications, such as those from I-CAR, indicate that the technicians have undergone rigorous training and possess the necessary skills to perform quality repairs. Knowing that qualified professionals will be working on your vehicle gives you peace of mind.

See more questions here
Invest the time to research and choose wisely, and you'll reap the rewards of a high-quality repair job. By asking these questions, you'll increase your chances of finding a reputable and trustworthy collision center that can restore your vehicle to its pre-accident condition, providing you with peace of mind throughout the repair process.
Whether it's a minor dent or major collision repairs, selecting the right collision center is essential for the safety and longevity of your vehicle. Our expert staff at Jerry Seiner Collision Center is here to answer any questions you may have and provide you with unbeatable service!
Get a free online estimate | Schedule Your Appointment Online